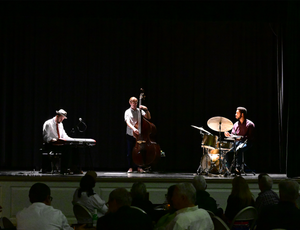 NEW ALBUM!!
Preordering is how you can get Quentin's next album on beautiful, hi-fidelity vinyl AND how you can support the album being printed!  Vinyl is very costly for to print (often over 5x the cost of CDs).  By preordering, you will help get the album into production and be the first fans to get this new album!  
When you preorder, you get:
Get your SIGNED album mailed to you a week before world-wide digital release!
High-quality vinyl record manufactured in Harrisonburg, VA by Blue Sprocket Pressing
free hi-fidelity download of a track from the album.  Now! You don't have to wait!
The ability to support your favorite jazz pianist and this amazing medium of music!
FAQ
WHEN WILL I GET MY ALBUM?
-Quentin's album is expected to be delivered late-March 2024
CAN I GET MY ALBUM OUTSIDE THE US?
-Preorders are available outside the U.S.!  Additional shipping price added to cover costs.
I'VE PREORDERED MY ALBUM, HOW DO I DOWNLOAD MY EARLY-ACCESS MUSIC?
-If you purchased a preorder online, your download is emailed with your purchase confirmation.  If you bought a preorder live at a concert, please click the button below and enter the access code on your receipt to download your music.
I'VE PREORDERED MY ALBUM AT ONE OF QUENTIN'S CONCERTS, WHERE DO I PUT IN MY SHIPPING INFO? 
-Please click the button below to put in your shipping info.
Preordered at a concert? click below!